Underfloor Heating
Underfloor heating is widely recognised by architects, consultants and engineers as being the most suitable solution for well-insulated modern homes. It provides higher levels of efficiency and control than conventional radiator systems. Underfloor heating is a system that uses pipes below the floor to circulate warm water producing a heat source capable of heating the air above it to any required temperature.
Daikin Online Controller
The Daikin Online Controller application can control and monitor the status of your heating system and allows you to:
Monitor
The Status of your heating system
Your energy consumption graphs
Schedule
Schedule the set temperature and operation mode with up to 6 actions per day for 7 days
Enable Holiday Mode
View in Intuitive Mode
Control*
The operation mode and set temperature
Remotely control your system and domestic hot water
Daikin Online Heating Control
The Status of your heating system
Your energy consumption graphs
Main Features
Equipped with GDPR (data protection)
Remote firmware update of LAN Adapter
Control over multiple unit locations
*Control via the app
> Room thermostat control for space heating and domestic water
> Leaving water temperature control for domestic hot water
> External control for domestic hot water
4 Types of Flooring Systems
FloorTherm Underfloor Heating can provide solutions to any floor structure required to meet the needs of todays marketplace. Solid floor constructions are the most common in the new build market but the need for alternative solutions are becoming increasingly important in the retrofit market. Our in-house design department can provide a system to match the needs for each individual project, while ensuring the regulations of EN1264 are always adhered to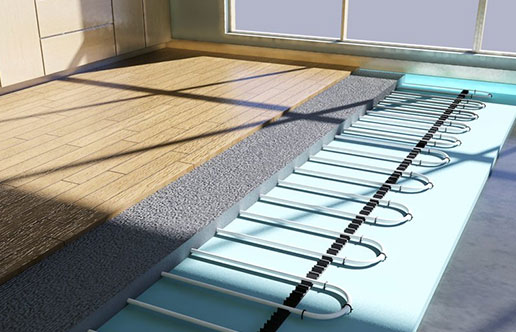 Solid Floor Screed
Our most common and energy-efficient solution that features components designed to interweave. This solution creates the ideal foundation for a heating supply network for heat retention.
Cost Efficient
High Heat Output
Quick & Easy Installations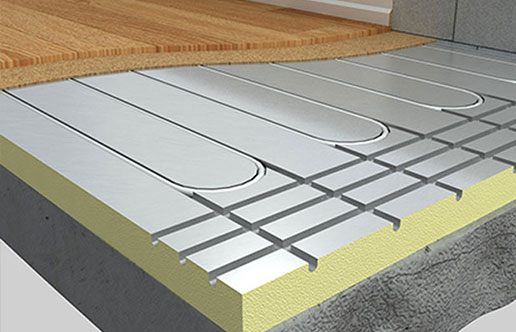 Floating Floor
Floating floor structures have become increasingly popular because they not only reduce the overall loading on the building, they also reduce sound transmissions throughout dwellings.
Direct Insulation
Medium Heat Output
Pre-Routed Channels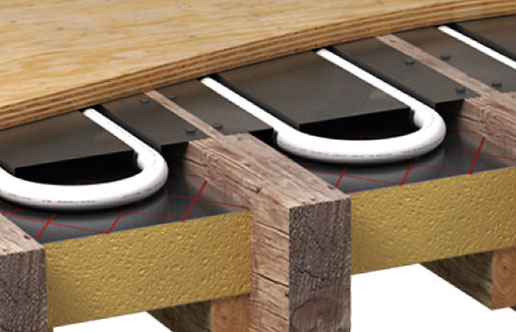 Aluminium Diffuser Plates
Joist floors do require a different approach to other flooring structures as the floor is not structurally capable of holding a screed. Instead, heat mass aluminium plates are fixed to joists.
Retrofit Market
Medium Heat Output
Single or Channel Runs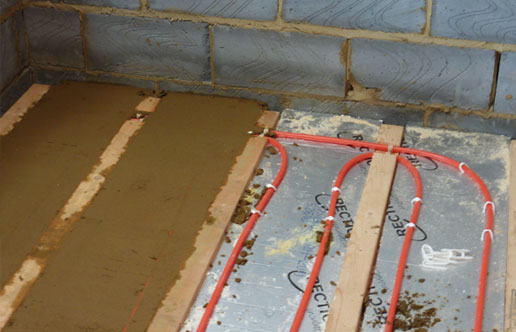 Biscuit Mix Underfloor Heating
The dry "Biscuit Mix" underfloor heating gives extra thermal mass, reduces expansion and also reduces contraction noise which can be experienced as the floor heats and cools.
Noise Reduction
High Heat Output
Extra Thermal Mass
System Components
FloorTherm provides a German-manufactured high specification 5-layer PERT pipe with an internal EVOH oxygen barrier in accordance with EN4726. The pipe design guarantees a non-detachable bond of materials as they are fused together by adhesive layers of polymer. The internal EVOH barrier ensures there is no contact with moisture or external damage thus maintaining its oxygen diffusion barrier for its lifetime.
Stainless Steel Manifold
Max Pressure = 6 Bar
Max Temperature = 70°c
16mm Eurocones, AAV, Manometer
Flow Meters with Isolation Valves
16mm PERT/AL/PERT
DIN4726 Regulated
DIN16833/84 Regulated
KIWA & SKZ Approved
100mm-200mm-500mm-750mm Coils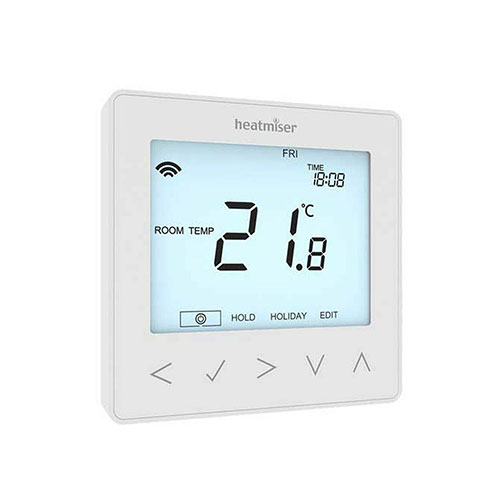 Heating Controls
Fully adjustable heat controls
Accurate temperature to +/-1oc
Available in slimline, neo & wireless
Hot water and radiator packages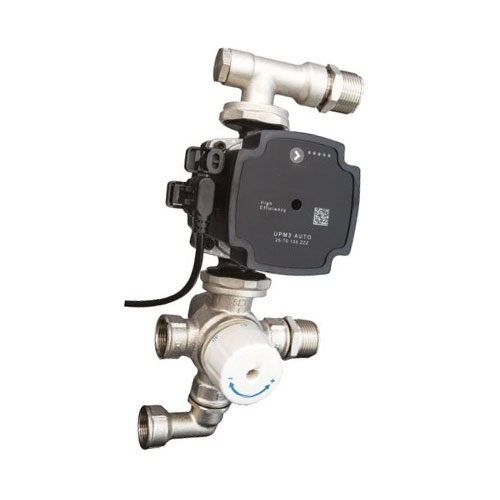 Pump & Mixing Valve Set
Quick & easy installation
Adjustable range (30-50oc)
Control flow temperature (+/-2oc)
Grundfoss A-rated UPS 25-60p/n