Daikin Altherma 3 H HT
Daikin Altherma 3 H HT is an investment in comfort and energy savings.
This air-to-water heat pump delivers heating, cooling and instant hot water—and uses less energy to do it.
Complements all types of homes on the inside and out.
Keep a quiet and relaxing ambience without disruption.
Benefit from the latest technologies to save energy and money.
Customise the system to fit your lifestyle and comfort needs.
Award Winning Design
Homeowners want a unit that not only performs well but also looks good in any room. That's why Daikin aimed to create a unit with great technical features and a versatile design.
These efforts earned Daikin Altherma 3 H HT, not one but two prestigious design awards.
Silence is Comfort
Hear the Daikin Altherma 3 H HT in action!
Daikin Altherma 3 H HT
When operating in Standard Sound Mode, the sound pressure level of the outdoor unit is 38 dBA (at 3 meters)—that's somewhere between birds chirping and a quiet library.
On Low Sound Mode, the sound pressure is reduced to half (35 dBA at 3 meters).

How The Sound Is Measured
The sound power is generated by the unit itself, independently of distance and environment.
The sound pressure is the sound preceived at a certain distance. The sound pressure is usually calculated at between 1 and 5 metres from the unit.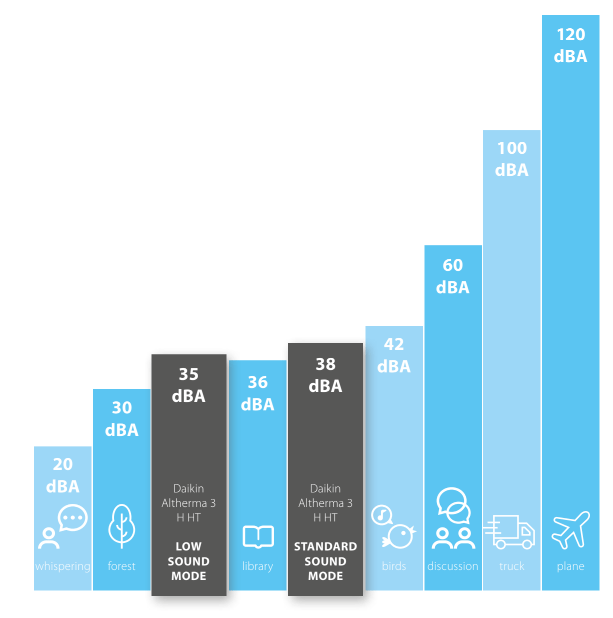 Exceptional Performance
Comes From Within
The Daikin Altherma 3 H HT contains the latest HVAC technologies, developed in Europe for European climates. Discover the features that make this product stand out from the rest.
Crafted with Care
1. Modern Casing
Daikin engineers collaborated with designers to bring a breath of fresh air to the traditional outdoor unit. Inspired by the excellent design of Daikin indoor units, this outdoor unit features an attractive front plate and clean lines to blend into surroundings easily.
2. High-Capacity Fan
High-capacity units tend to operate with two fans but this outdoor unit needs only one. The larger sized fan improves air circulation, which helps it achieve a low operational noise.
3. Brand New Compressor
Daikin Europe worked with the Daikin Technology and Innovation Centre in Japan to develop a special compressor that delivers 70°C water. This high-temperature heat pump is also the first to use R-32: a more energy-efficient refrigerant that releases fewer CO2 emissions.
4. Durable Insulation
3-layer insulation and rubber pads between the bottom plate and vibration plate absorb and insulate the sounds made by the compressor while in operation.
One Solution – Multiple Combinations
The range includes one outdoor unit that is compatible with three different award-winning indoor units, all of which can be customised to deliver heating, cooling and domestic hot water.
Choose your indoor unit
Discover the three indoor units that are part of this range and the three features you can choose from to tailor the range to meet your climate needs: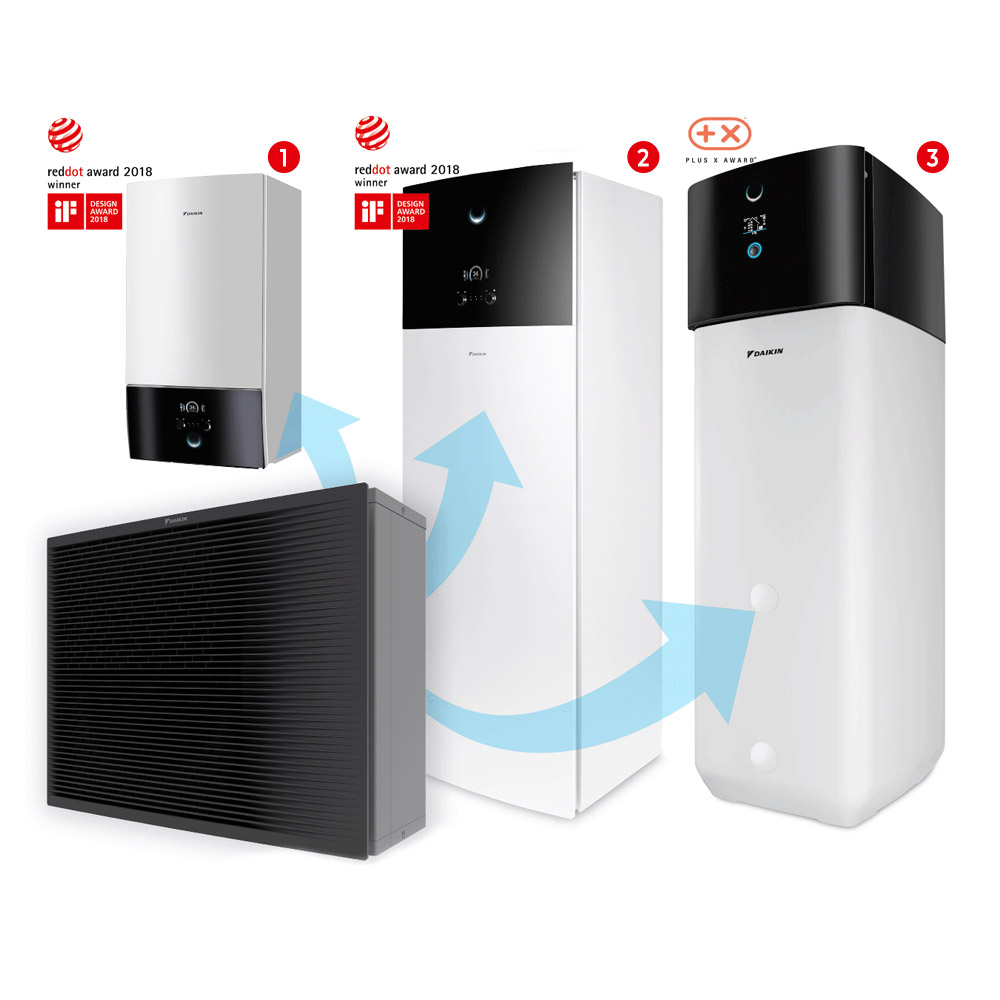 1. Wall-Mounted Model
A compact unit that combines with a separate tank to deliver domestic hot water. This model offers an optional cooling function.
2. Integrated DHW stainless steel tank model
A compact unit with a footprint of 595x625mm. The unit connects to a 180 or 230L tank to meet domestic hot water demand and can operate in either a cooling or bizone settings.
3. Integrated ECH2O DHW tank model
The ECH2O unit comes with a thermal DHW tank of 300 or 500L that can connect to thermal solar panels. This model offers an optional cooling setting.
Three Features
Discover the three features you can choose from to tailor the range to meet your climate needs:
The Heating Only function is standard in the Daikin product range and is available for all three indoor units. This setting provides space heating and domestic hot water. ​
If you need comfort cooling in addition to heating and hot water, then the Reversible function is the best solution. Available for all three indoor units, this feature allows the system to reverse its operation to provide cooling instead of heating. This setting requires an underfloor piping system or fan coil units.
The integrated floor standing unit is the only indoor unit equipped with a Bizone setting. With Bizone, you can choose to manage and control the temperature of two seperate zones in your home that use different emitters, like radiators or underfloor heating.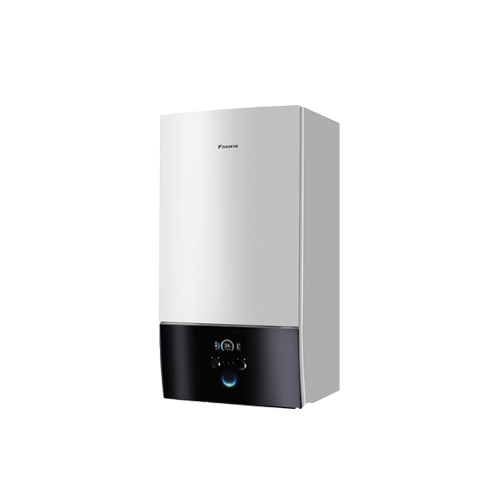 Daikin Altherma with Bluevolution Technology 3 is the first air-water heat pump in the UK using R32.
Flexible and compact unit with no side clearance
Combine with a separate domestic hot water tank (up to 500 litres, with or without solar support)
Modern and stylish design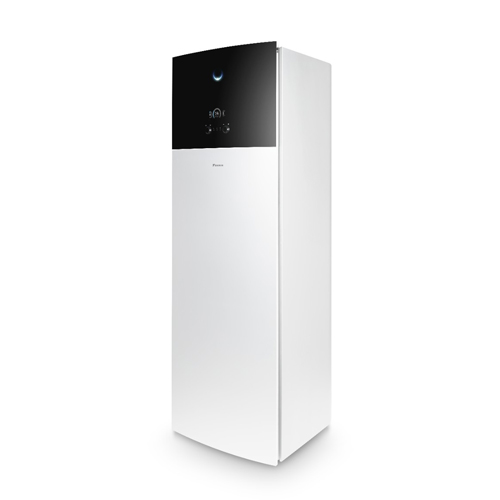 Daikin Altherma 3 H HT F
Floor standing air to water heat pump for heating, cooling and hot water.
Integrated indoor unit: all-in-one floor standing unit including the domestic hot water tank
inclusion of all hydraulic components means no third party components are required
Quick configuration in 9 steps in a high resolution colour interface wizard.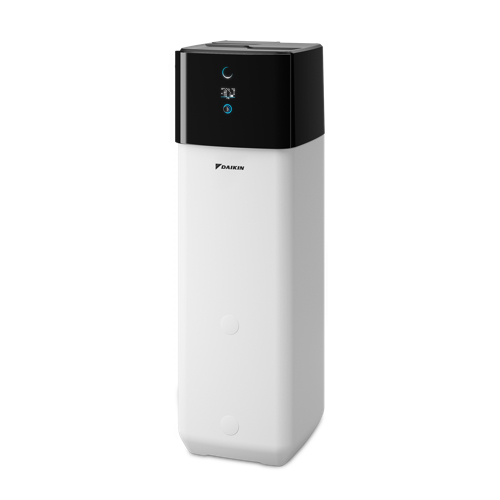 Daikin Altherma 3 R ECH₂O
The monobloc is the ideal solution for places that have limitations on space.
300 or 500 litre integrated tank
Fresh and safe hot water by separating tank water and domestic water
Maximum energy use thanks to its solar connections
Bivalent option to allowing combination with other heat sources