The All-in-One Solution
For Home Owners
From central heating and air conditioning to smart control systems and solar options. We have heating, hot water and cooling solutions for every room in your house. Learn more about what Floortherm can do for your home.
Live in a climate that has been designed for your lifestyle.

Enjoy the benefits of high quality, reliable solutions for your home.

Save on your energy bills with our energy-efficient solutions.
Control your climate from anywhere with smart technology.
Bringing Comfort To Your Home
We provide reliable climate control solutions for your home.
With FloorTherm you will never need to sacrifice comfort over energy efficiency ever again!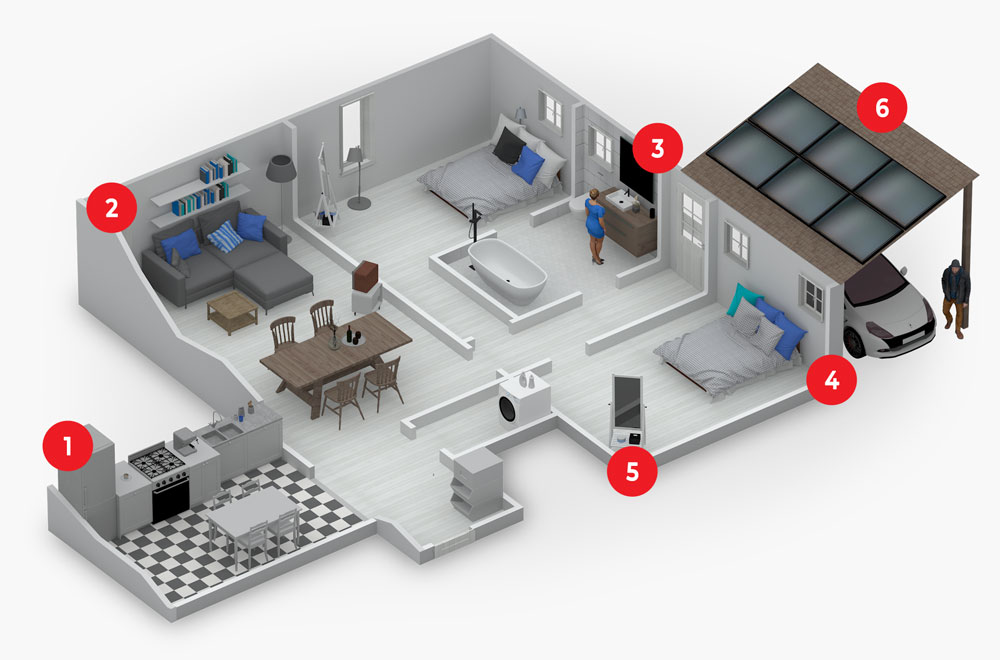 1. Kitchen
Smart controls allow you to manage your energy consumption

Energy modes reduce your running costs

Hot water produced by renewable energy
2. Living Room
Our intelligent eye ensures optimal airflow

A variety of indoor units to suit your interior

Improve your energy performance with under floor heating
3. Bathroom
Hot water produced by renewable energy

Connect to a towel radiator for warm towels in the morning
4. Bedroom
Sleep through the night with stable temperature control

Breathe in healthy air, free of mould and allergens
5. Patio
Durable outdoor units perform in all weather conditions
6. Roof
Reduce your energy consumption and save money with solar panels
Online Controller
Our online controller application can control and monitor the status of your heating system. You can make the best of the following features without getting out of your seat:
Monitor
The Status of your heating system
Your energy consumption graphs
Schedule
Schedule the set temperature and operation mode with up to 6 actions per day for 7 days
Enable Holiday Mode
View in Intuitive Mode
Control*
The operation mode and set temperature
Remotely control your system and domestic hot water
Daikin Online Heating Control
The Status of your heating system
Your energy consumption graphs
Main Features
Equipped with GDPR (data protection)
Remote firmware update of LAN Adapter
Control over multiple unit locations
*Control via the app
> Room thermostat control for space heating and domestic water
> Leaving water temperature control for domestic hot water
> External control for domestic hot water
How a Heat Pump Works
A heat pump controls the temperature by transferring heat. There are three essential components to a heat pump: the outdoor unit (evaporator), the indoor unit(s) (condenser) and the refrigerant. The refrigerant transfers the heat as it circulates between the outdoor and indoor unit(s):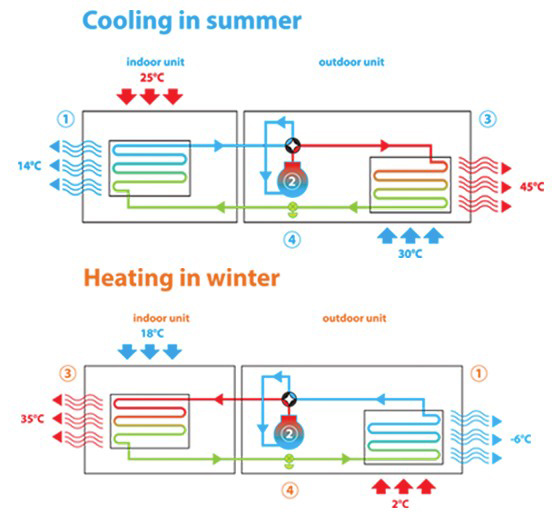 So what does it actually do?
The evaporator extracts energy from the renewable source (air, water, geothermal or solar) by forcing the liquid to transform into a gas.
The compressor compresses the gas, which raises its temperature.
The condenser exchanges the heat from the gas to the heating system, and the gas returns to a liquid state.
The expansion valve lowers the pressure of the refrigerant, which triggers evaporation and the cycle begins all over again.
We simply reverse this cycle to cool your home.
Need A New Heat Pump
For Your Home?
Select the type of heat pump you need below: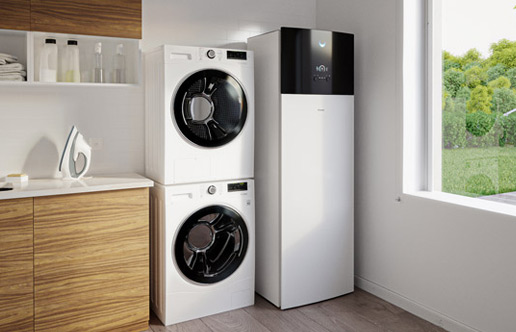 Give your home an energy efficient heating, cooling and hot water system with our low temperature heat pump.